Our

Story

Nearly three decades ago, a dentist from Oxford, Mississippi had a vision to turn an abandoned movie-set diner into a small, yet charming, neighborhood restaurant & gathering place.

That vision became a reality when the first McAlister's opened its doors in 1989. The menu then would still feel familiar today packed with the craveable sandwiches, spuds and salads we're known for – and of course our famous McAlister's Sweet Tea.

Not only has our menu remained true to its roots, so have our values. Today, with more than 500 restaurants in 28 states, we're still dedicated to serving great food with genuine hospitality. We invite you to come for the food and stay for the experience. Bring your family, meet your neighbors, celebrate that big win with your teammates or make new friends that share the same love for sweet tea and sandwiches as you – we mean it when we say that our table is your table.
Our

Food

Our food is our foundation - we wouldn't be here without the 13 layers of our McAlister's Club or our giant Spuds covered with your favorite toppings. Our goal is to serve handcrafted food and delicious sweet tea that is simple and satisfying – for every palette, even mom's pickiest eater. We take familiar flavors and add the special McAlister's touch that you won't find anywhere else.

As our menu evolves and new flavors emerge, we're always keeping one thing in mind – you. From our local produce vendors, and genuine Idaho Russet Potatoes to our Rainforest Alliance Certified black tea sweetened with pure cane sugar, we're committed to serving food that is not only craveable but created with the finest and freshest ingredients.
Our

Tea

McAlister's and sweet tea go hand in hand. To us, our giant 32 oz. glasses of tea are for more than just satisfying your thirst – it's for moments when you need a refreshing pause from the day's busy schedule, moments when you want to sit back and catch up with your best friend and for all the cheers in between. Regardless of what the day throws your way, there's always time for the perfect sip of sweet tea.

That's why our tea is brewed throughout the day to ensure there's always a fresh batch waiting for you. Starting with steaming-hot filtered water, our tea is steeped from Rainforest Alliance Certified™ premium tea leaves, sweetened to perfection with pure cane sugar and poured over our special, crystal-clear ice. We take the perfect amount of tea and combine it with the perfect amount of ice, top it with an over-sized lemon wedge and then serve it up with our iconic extra-wide red straw. Our famous sweet tea will quench even the hardest earned thirst…And if you're still thirsty, we'll gladly refill your glass as many times as you'd like.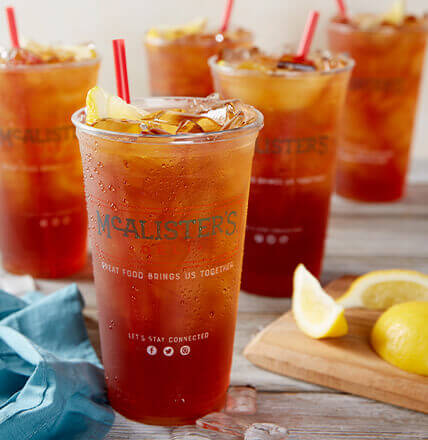 Our

Community

At McAlister's, genuine hospitality means always delivering that little something extra. Whether it's an extra smile when you walk in the door or an extra refill as you enjoy your meal, we want a visit to McAlister's to feel like visiting a good friend. We're always happy to see you and happy to serve you and want our hospitality to be as memorable as our food.

Our restaurants are not only committed to being better neighbors, but also to bettering our neighborhoods. We want to give back to our communities in ways that matter to our guests. That's why our restaurants are often reaching out to local schools, churches, non-profits and other organizations to get involved however we can. We value generosity and are proud to employ managers and team members who embrace our culture of giving. From volunteering to running in charity 5ks or working at fundraisers, our team is dedicated to doing all that we can to support local initiatives in ways both big and small. And when disaster strikes, our restaurant groups have been some of the first to donate food, drink and money to help the victims.

If you're interested in how your McAlister's is helping the community, simply go in and ask. I'm sure they'd love for you to join them.