SWEET SIPS TEA FEST '21
For our diehard fans, summer without tea is no celebration—and we think you'll agree. From Tumblers to Free Tea Day, there's so many ways for you join us for this years Tea Fest.
Free Tea Day / July 22 / Free Tea on 7/22 / Grab your fellow tea lovers and raise a FREE 32oz glass to summer on Free Tea Day!
JUST ANNOUNCED. SWEET SIPS TEA FEST.
To us and our fans, our famous tea is a symbol of summer—refreshing 'n cool. Basically, all the things that make you forget it's 100 degrees out. And we'd know, because nothing breaks a sweat like our 32oz cup of famous tea (so that you don't have to). Check out our Tea Fest Set List below to see all the refreshing ways you can join us in celebrating this year's Tea Fest.​
McAlister's Jackpot!
Sign up for McAlister's Rewards or purchase a tea as a McAlister's Rewards Member between 6/10 - 7/22 to be automatically entered for the chance to win McAlister's for a Year!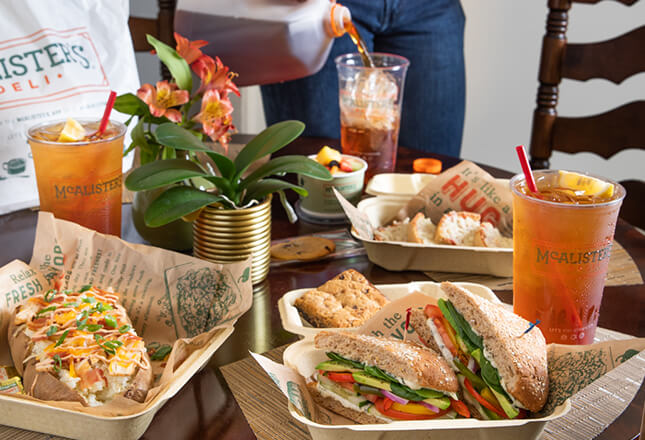 ​National Tea Day Giveaway / June 10 / Free Tumbler and 30-day Tea Pass to the first 20 people who make a purchase in-store on 6/10
Tea Pass on Sale / Launch June 10 / If you know us, you know our tea. And if you know our tea, you know it's legendary. So, one cup won't be enough, enjoy 30 Days for $6.99.
McAlister's Delivery / June 10 – July 22 / Nothing quenches your thirst like our famous tea. During Sweet Sips, order a gallon and enjoy a $0 Delivery Fee with promo code DELIVERTEA21
Flavor Shot Fridays / June 10 – July 22 (Fridays) / Try one of our flavor shots in your favorite beverage! Peach, Black Cherry or Strawberry!
Free Catering Gallon / June 10 – July 21 / Tea for the whole squad! Get a Free gallon of Sweet Tea with The Works when you order catering with us and use promo code FREETEA21 or FREEGALLON21 at checkout, promo code may vary by location (orders $100+)